Speedy Romeo in the Lower East Side of Manhattan became a main staple on the foodie accounts I follow on Instagram this past summer. No kidding- it was impossible to look at the big NYC eats accounts without at least one or two pictures of the wood-fire grill pizzas by chef Justin Bazdarich. Originating in Brooklyn, the pizza joint expanded to a swanky LES space serving up not just these unique pizzas, but craft cocktails and a hip downtown vibe.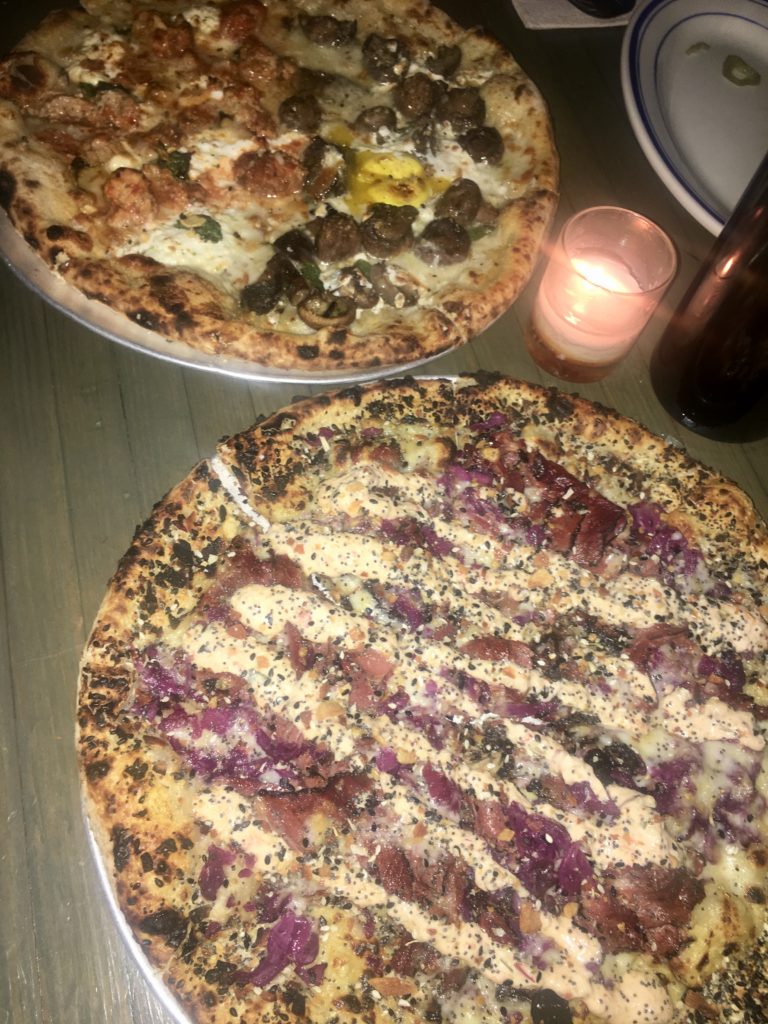 For my first (of what is sure to be many) trip, I ordered the Paul's Boutique (and hence the Katz Deli reference in the title) and the Kind Brother. Both pictured above with Paul's Boutique in front, they were as amazing as the waiter who recommended them said they would be.
Paul's Boutique is unique to the LES location because it uses the infamous Katz's Deli pastrami. You read that right. Katz's Pastrami, Dijon Béchamel, smoked red kraut, fontina, 1000 Island Dressing, and everything bagel crust- it is by far one of the most unique pizza's I have ever had. It sounds like a pastrami sandwich on a pizza, and that is exactly what it tastes like but elevated. The ingredients are the best you can get in town and the wood fired touch is what makes this even more glorified. This pizza is worth the trip to the LES location.
Kind Brother, similarly, is one of the most unique pizza toppings/combinations I have ever seen. Béchamel, wild mushroom, smoked mozzarella, farm egg, and sage top this perfectly baked beauty. I am a huge fan of egg and white sauce (Béchamel) on pizza so, despite the opinion of the table, this one was my favorite. Both make this pizza extremely creamy and with the mozzarella and wild mushroom- full of a smoky and hearty flavor that goes perfectly with the other ingredients.
I have to say a huge thank you to the NYC Instagram food bloggers for bringing Speedy Romeo to my attention as this is a place I would recommend over and over again!