Potentially one of the most argued food debates in the history of food debates- which city has better pizza, New York City or Chicago? I've mentioned I prefer deep dish (more dough) but the longer I live in New York, the more and more I am being converted into a thin, big slice lover. About a month ago I had the pleasure of finally visiting Chicago for a taste of the real thing. Upon several recommendations, I had my first Chicago deep dish pizza from Lou Malnati's.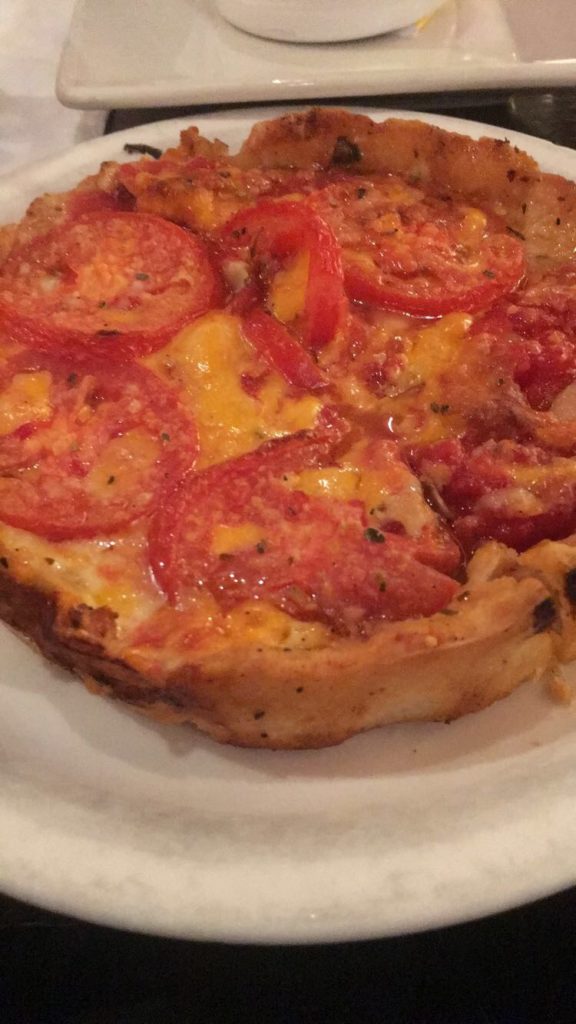 I opted for the "Deep Dish The Lou." This house special consists of spinach mix (enhanced with garlic, basil & onion), mushrooms and sliced Roma tomatoes covered with three cheeses, on a garlic Buttercrust. A 45 minute wait? No problem, it will surely taste even better with all the love going into those 45 minutes. Once the above beauty finally came to my table, I was salivating and ready.
Much to my disappointment, this pizza was a simple OK from me. While not all New York pizzas WOW me, I usually walk away happy and satisfied. I was slightly dissatisfied here. The crust, while heavily baked with butter, was missing the promised garlic flavor and didn't have the flakiness that comes with a deep dish. The sauce and toppings inside were "soupy" to put kindly. The cheese (which you can see is bright yellow above) tasted almost "fake" and there certainly was not enough per bite. To be honest, none of the veggie flavors even came through, but rather a cheese and tomato sauce taste. *Sigh*
Lou Malnati's sadly was over hyped and the NYC slice just earned another point in the great debate on my end.