A rich and delicious cake – full of walnuts and dates.  Orange flavor makes it perfect.
Ingredients:
Cake:
15 egg whites
2-1/4 cup sugar
2.5 cups walnuts (chopped)
2 cups dates (chopped)
1/2 cup flour
Filling:
4 cups of milk
1-1/2 cups sugar
15 egg yolks
Juice and zest of one orange
1 -1/4 cups corn starch
1 lb butter
Directions:
Preheat oven to 360F.
First chop walnuts and dates, put both in a bowl, add flour and mix it all together.  This cake has three layers. In my Kitchen Aid I can mix 10 egg whites (which is enough for 2 layers) at once so I do that first, transfer the mixture to a big bowl and then beat remaining five egg whites and then put both mixtures together. So, beat 10 egg whites with 1-1/2 cups sugar until stiff, transfer in a big bowl; beat 5 eggs with remaining sugar until stiff; add it to together and than fold in dry ingredients. Line 3 pans (11″ round) or 13″x9″ with parchment paper. Bake in 360F oven for 20 minutes.  Turn off the oven but leave the cake to cool down in the oven.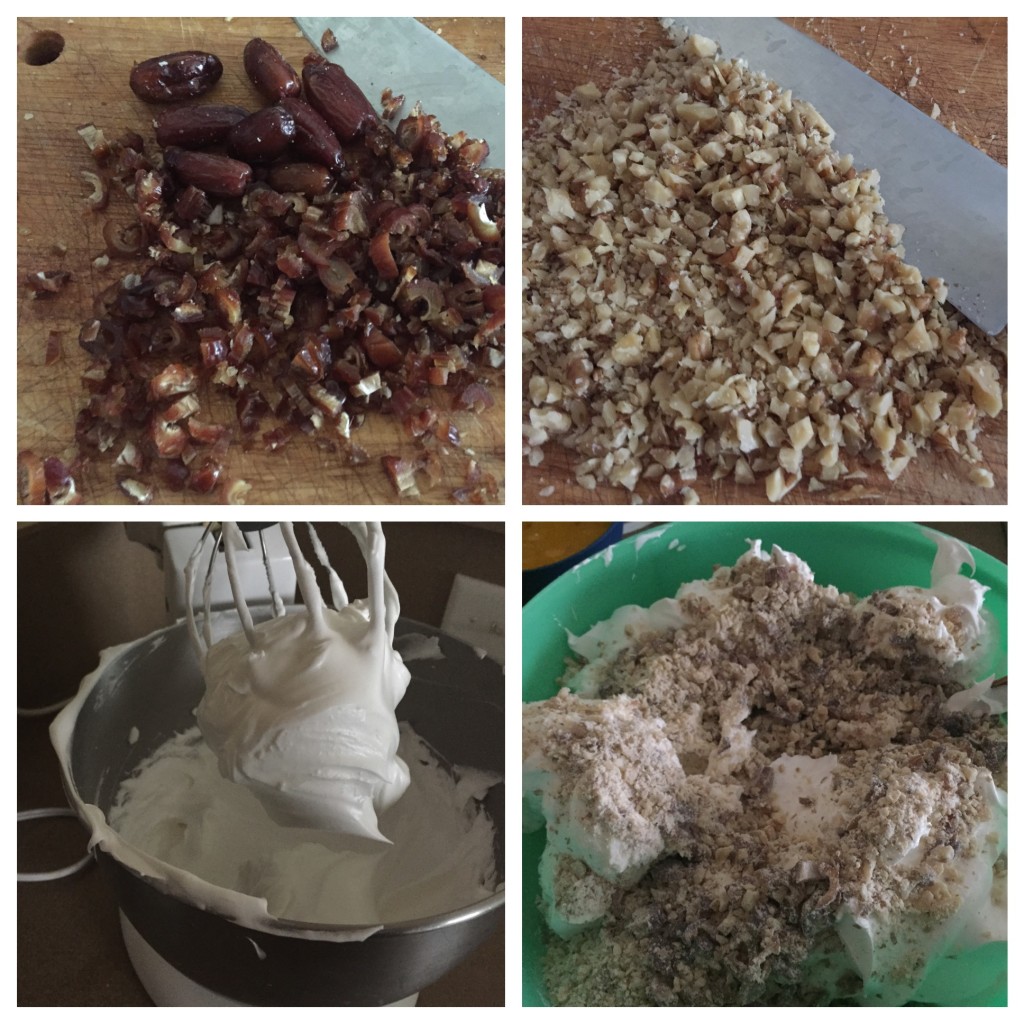 Filling: Mix the yolks and corn starch with 1-1/2 cups milk. Put remaining 2-1/2 cups milk in a pot, add orange zest and juice, sugar and bring it to boil.  Lower the heat, pour in the egg yolk mixture and cook for about 2-3 minutes or until it is thick. Cover with a plastic wrap and leave to cool. Butter needs to be soften and mixed in a separate bowl.  When the cooked filling is completely cooled transfer to a mixer bowl, start beating until smooth; gradually add butter; mix until butter is blended. Chill in refrigerator for few hours. It is okay to leave both, cake and filling  overnight too. When the filling is cooled and easy to spread, reserve about 1.5 cup to put on top of cake and on sides and use the rest to fill the cake. Decorate with whipping cream of icing, if you wish.
Save
Save