Ingredients:
6 cups flour
1 tablespoon salt
2 tablespoon sugar
2 tablespoon instant yeast
500ml milk
2 tablespoon sour cream
2 eggs
1 stick of butter (softened and divided in four pieces)
1 egg for brushing
Heat the milk, pour into a mixer bowl, add eggs and sour cream.  In  a separate bowl whisk together flour, salt, sugar and yeast.  Add a half of flour mixture to milk and start mixing on a low speed.  Gradually add the rest of flour, mix until all is well blended.  Transfer dough into a greased bowl turning once to coat.  Let it rise until double in size.
Turn onto a floured surface, knead little and then divide in 5 parts.  Knead each to form a ball.  Let it rest for about 15 minutes.  Using a rolling pin stretch one ball to a circle (about 10″),  take one peace of butter and smear over.  Move aside.  Do the same with another ball and put it over the first one.  Repeat with remaining balls.  The last one should not be buttered but put over the stack of four butter circles, stretch little using your fingers and tuck under to form a ball. Let it rest for 10-15 minutes.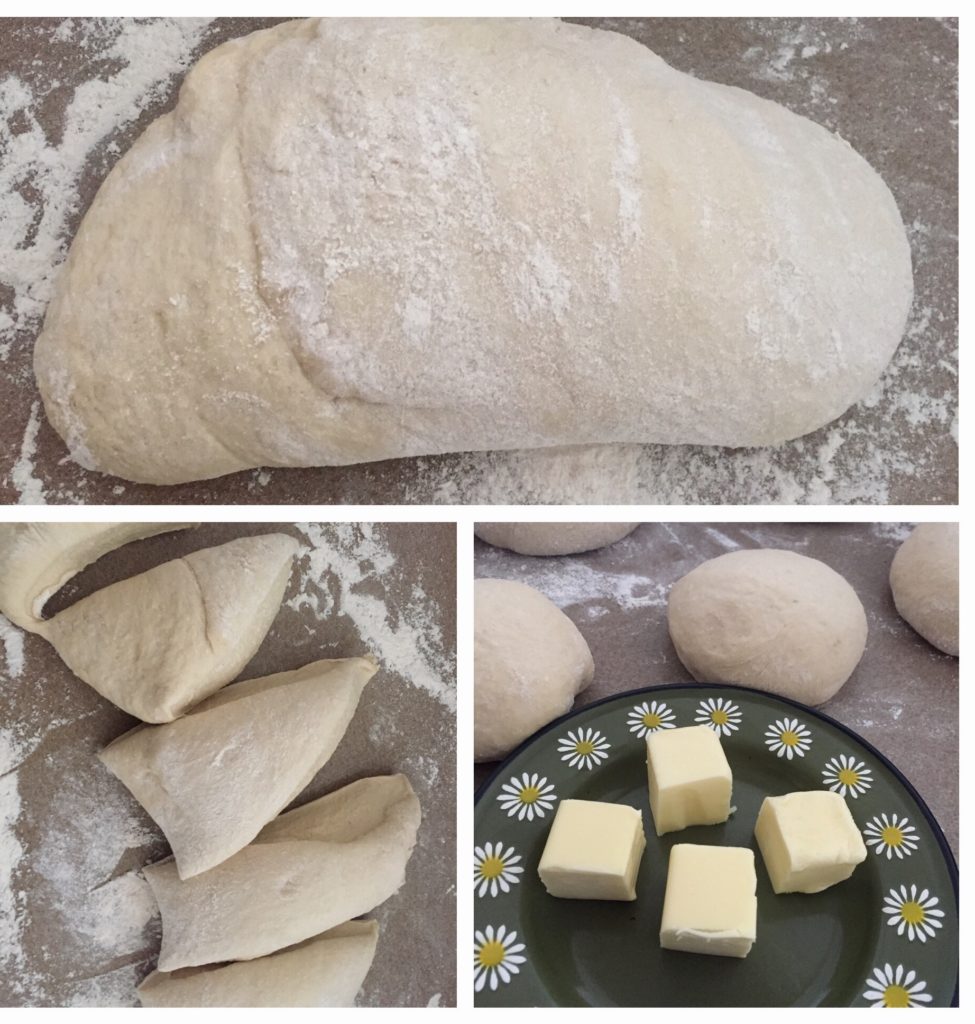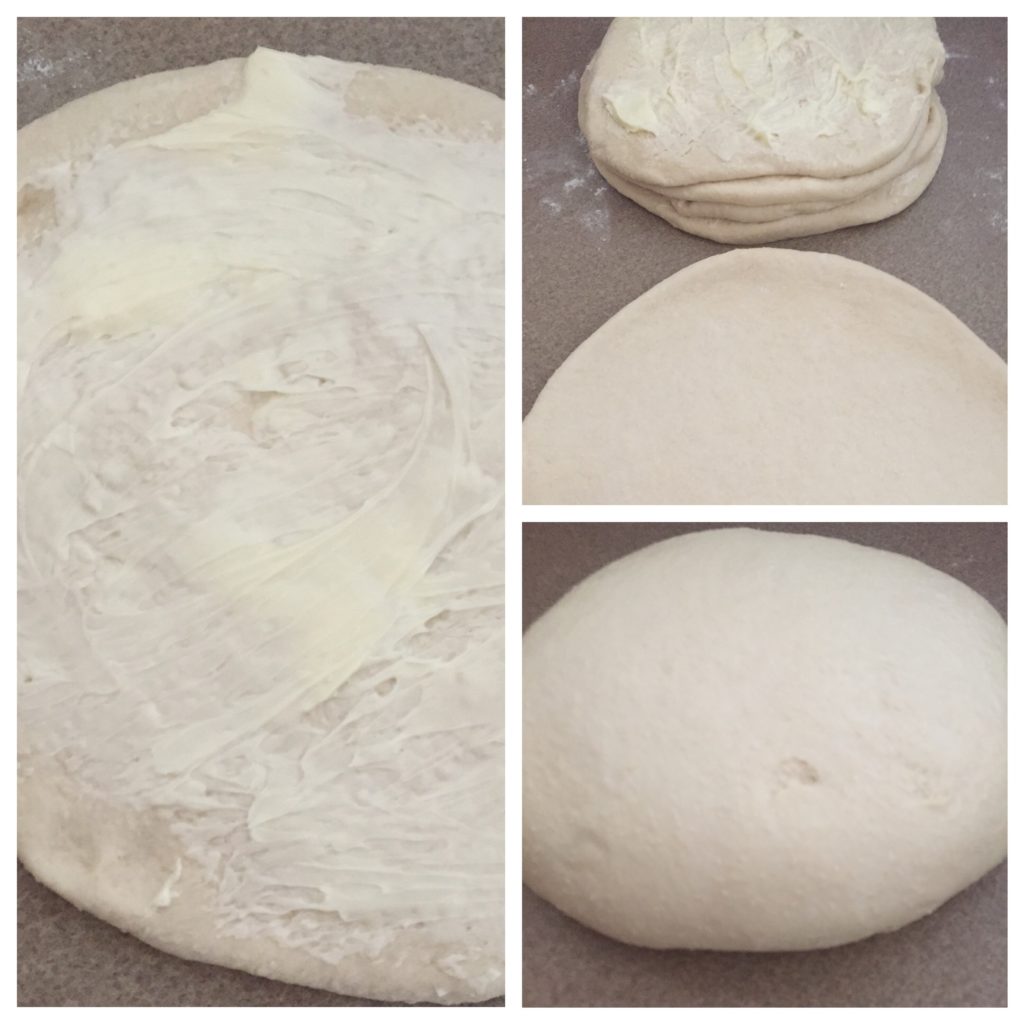 With a rolling pin stretch dough into a big circle.  Cut it up into 16 triangles.  Roll each to form a croissant.  Line 12 croissants in a spring form (11″) and put last 4 into the middle placing them so that one end is on the bottom of the pan and the other is up.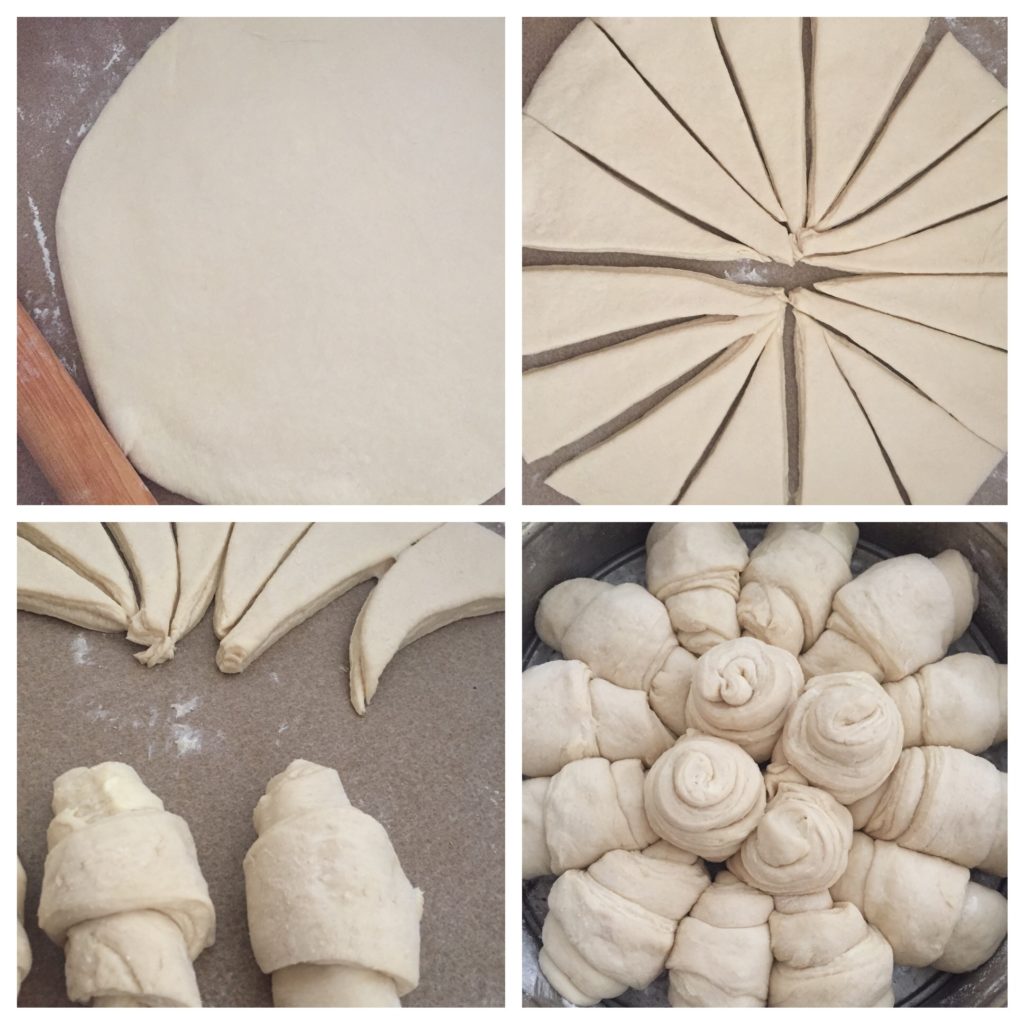 Brush with egg mixed with 1 teaspoon of water.  Sprinkle with sesame seeds if you wish.  Bake in 400F oven for 35-40 minutes.
This bread is great with any savory dish.  You can also just pull apart a croissant and fill it with nutella or jam.
Save
Save
Save
Save
Save
Save
Save
Save
Save