This fabulous cake is layered with raspberries and rich chocolate ganache. Perfect for any special occasion!
Ingredients:
Cake:
2 sticks of butter
2-1/2 cup sugar
4 eggs (separated)
1-1/4 cup chocolate chips (melted with 2 tbsp of water)
2-1/4 cup flour
1 Tbsp baking powder
Pinch of salt
400ml milk
This cake is baked in 11″ round pans. Beat butter with 2 cups of sugar until creamy and fluffy. Add 4 egg yolks; keep beating.   Gradually add melted chocolate.  In a separate bowl whisk together flour, salt and baking powder. Add flour mixture and milk interchangeably.
Mix 4 egg whites with remaining 1/2 cup sugar until stiff peak.  Add in thirds to the cake mixture.  Using robber spatula mix well after each addition and until all is blended well. Pour the cake mixture into 2 round pans lined with parchment paper. Bake on a middle rack at 360F for 1/2 hour. Place on wire rack to cool completely.
Raspberry filling:
12 oz frozen raspberries
1 cup sugar
1/4 cup water
2 Tbsp corn starch
Mix corn starch and water; add remaining ingredients and cook in a small saucepan.  Once it boils, cook for 1-2 minutes.  Cover with a plastic wrap and cool.
Chocolate Cream:

3 (6.8oz) Hershey's Symphony Chocolates
3 cups whipping cream
Break chocolates in small peaces into a mixing bowl. Bring whipping cream just to boil in a medium saucepan. Pour over chocolate; let stand for 1 minute, then stir until ganache is melted and smooth.  Cool, cover and place in a refrigerator for several hours.
Chocolate glaze:
1 cup chocolate chips
4 tbsp oil
Microwave 1 minutes, stir until melted.
To assemble the cake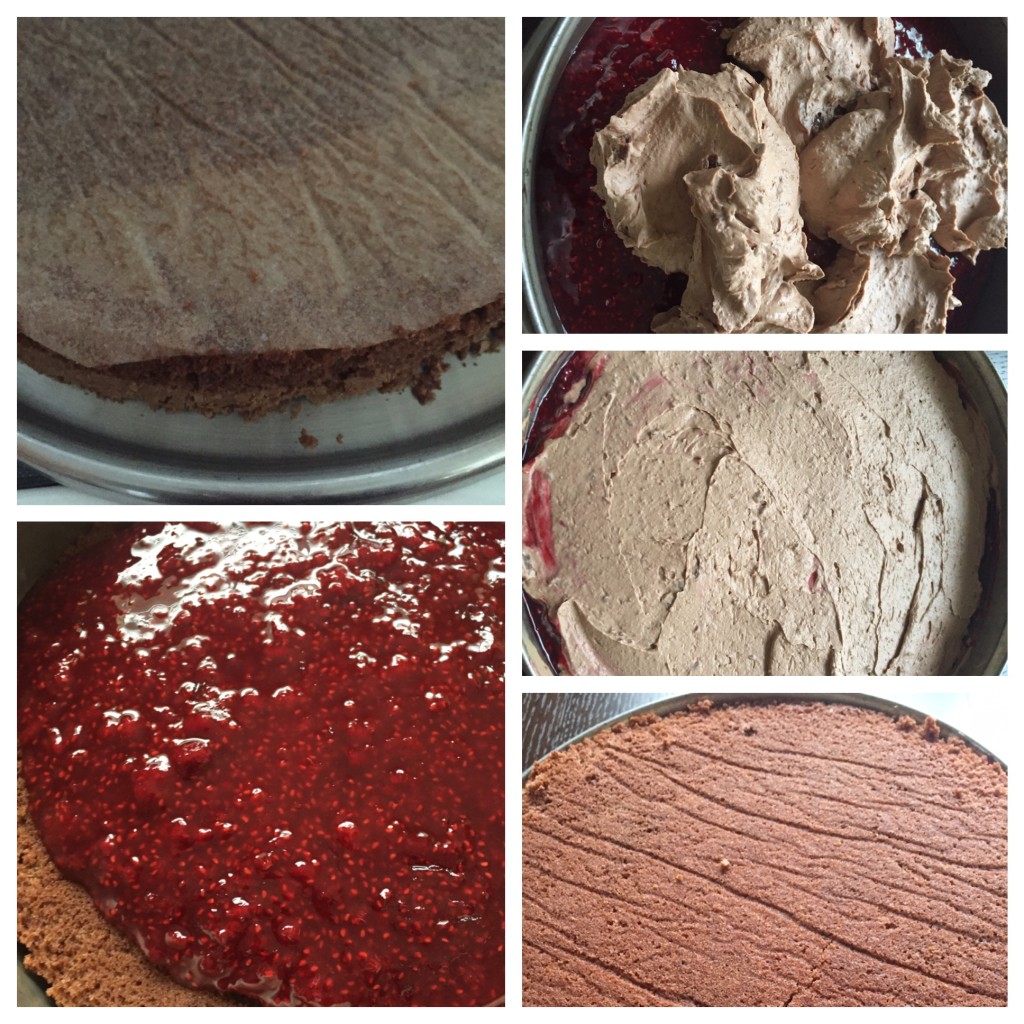 Run knife around pan edges to release the cake. Invert cake layers to a round cardboard or to a tray. Slide off the first layer onto the serving tray.  Put the spring-form side around; lock. Pour raspberry filling over the first cake layer. With a mixer beat chocolate ganace until creamy.  Reserve one cup of chocolate cream. Spread the rest of the cream over raspberry filling, and then put the second cake layer on top (it is best just to slide it off of cardboard or use a cake lifter). Refrigerate for 4-5 hours or overnight.
Remove the spring-form side. Spread reserved ganache over the cake; pour chocolate glaze over, and put fresh raspberries on top.
For additional decoration use your favorite icing.
Save
Save