Ask most New Yorkers, thin crust or deep dish, and you will almost always hear thin crust with enthusiasm. Well, I have only lived in NYC for 2 1/2 years now so I don't think I can be called a New Yorker just yet (I wish). With that said, I will say deep dish time and time again (more dough come on now). The best deep dish I have had in Manhattan comes from  a small and quaint pizzeria in the heart of Soho: Emmett's. Pictured below is Mina, Alan and mine custom pizza with onions, spinach and mushroom- of course immersed in extra cheese and surrounded by a thick crust.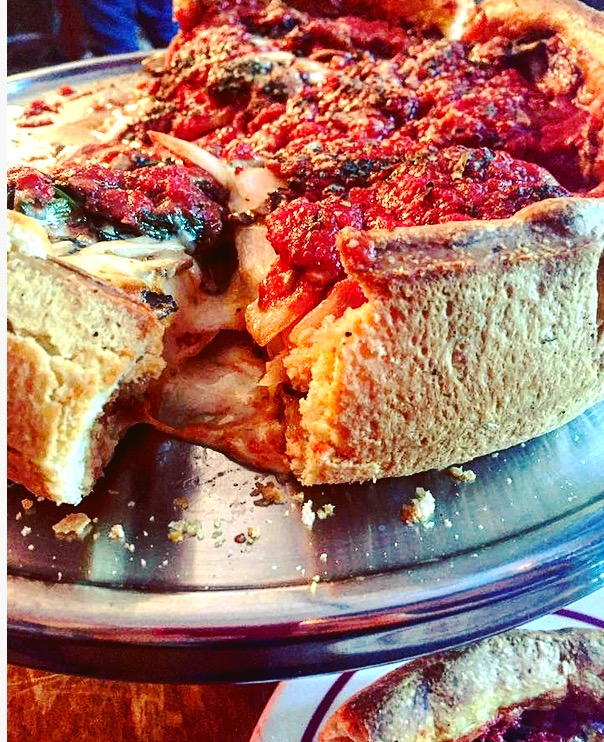 Rating: 4.25 stars
It's hard to give deep dish pizza in NYC 5 stars because it's not what this city is known for and prides itself on. I also have never been to Chicago and can not claim to have eaten the original. I can claim however, that this is one really really good pizza.
Starting with the bread, it is crisp and cooked to a perfect crunch while not overcooking the filling and toppings. Being as much as there is, just one slice will seriously fill you up. As you can see the mozzarella cheese completely overfills the pizza and oozes out from all sides (not a complaint, actually a great thing). The sauce is zesty and contains a combination of spices that rounds out the entire pizza well even before any toppings are added. Then comes the part where each pizza will differ and you can get creative. We chose to do a vegetarian pizza with only mushrooms, spinach and onions. Other offerings include sausage, pepperoni, green pepper, and really most fixings you would desire.
Also worth noting is the charm and atmosphere of the restaurant. Located in the heart of Soho on MacDougal Street, you are in a prime area to carb up for some serious shopping afterwards. The restaurant itself is small like most downtown neighborhood establishments and has a warm dive bar atmosphere. With that of course comes the potential wait, which is no surprise in New York, so plan your dinner here accordingly.
Serving up some serious deep dish pizza- Emmett's is a must for anyone in the city looking for a change up with a Chicago-style pizza!