It's no secret that Alan and I have major sweet tooth's. It's also no secret that we sneak around Mina to get those sweet tooth cravings satisfied. Together we ventured to Ben's Cookies in Union Square while Mina stayed home to try not just a cookie, but EVERY cookie they had to offer. Pictured below are 4 of our dozen pack of scrumptious Ben's cookies!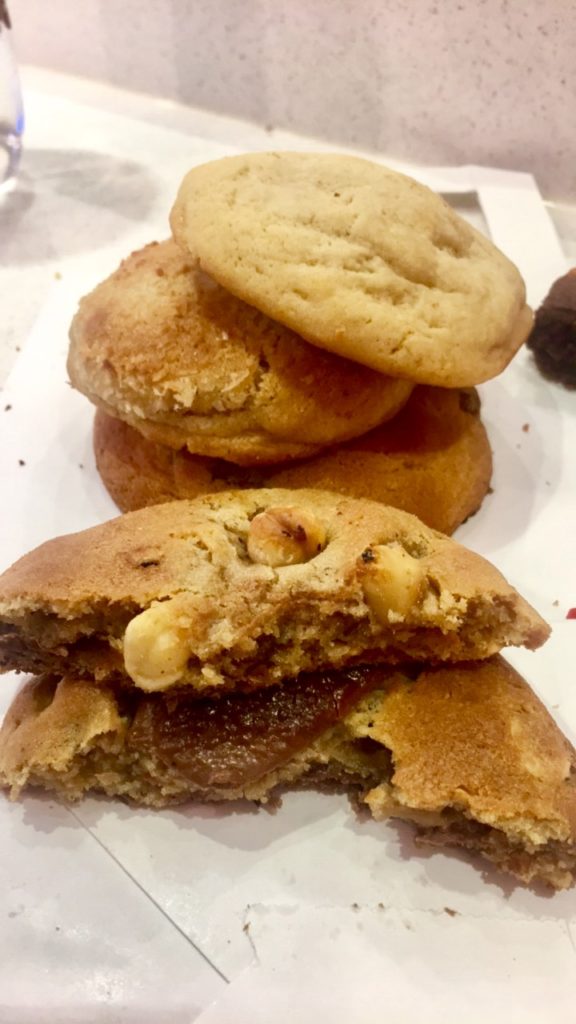 Not quite as big as Le Vain, but certainly not small either, Ben's Cookie's prides themselves on baking with chocolate chunks rather than mere chips. If you ask me, the more chocolate the better, so I am a fan. The full menu can be found here. While we did get one of all that were available at the time, I'd like to highlight some of my favorites.
The praline milk chocolate chunk- WOW! These are soft and warm but pack a crunch from the pralines that make it my absolute favorite. A nice balance between sweet and slightly salty, you can't go wrong with the praline milk chocolate. Lemon in general is one of my favorite dessert flavors. Lemon bars, squares, cookies, brownies, pies- I like it all. The lemon cookies here can be added to the list of favorites. Super moist and packed with that zesty flavor- they are a nice contrast to a typical chocolate chip cookie. Coconut (pictured above below the lemon) is made full of flakes and sure to be enjoyed by any coconut lover, which I did not realize was such an acquired taste. The dough of the cookie seems to be less sweet so overall, you are not overwhelmed. No fuss here, just tastiness. Finally, white chocolate chunk and macadamia. One of the greatest cookie combos- made giant. The white chocolate chips are chunks, just as the milk chocolate, and the warm and toasted macadamia are just what every cookie needs.  A constant classic and must get at Ben's.
Ben's Cookies are certainly not the best I've had. In fact, they're "pretty good!" rather than "AMAZING!" But, if you are looking for a really good cookie and a quick sugar fix- you're guaranteed to get both at this quaint English cookie shop.