The Flour Shop deserves a review not just on their cakes, but on the adorable store as well- step into this cozy SoHo bakery and try not to instantly smile! Bright white walls are adorned with rainbows and sparkles, glitter and gold that make this one of the most fun (and most Instagram-able) cake shops in town. Not only is there plenty of wall art to take pictures with your kids and cakes, there is also a princess style seating area to complete your experience. Whether you are ordering a cake to go or enjoying some of their cake balls, it's impossible not to feel a sense of joy and let your inner kid come out when you're at The Flour Shop.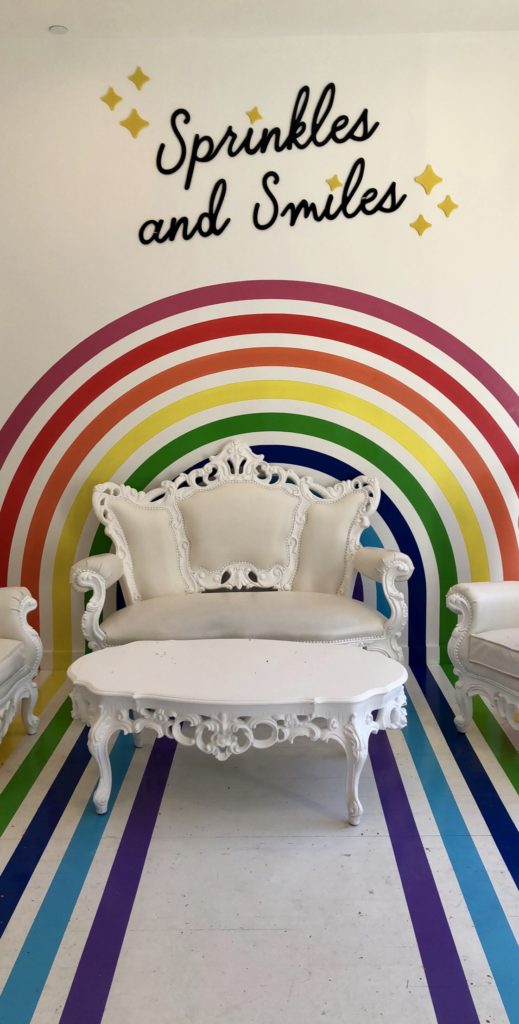 I stopped in to pick up a cake for a very special birthday. I knew it was an "Explosion Cake" but I was not prepared for the experience that accompanied the masterpiece below: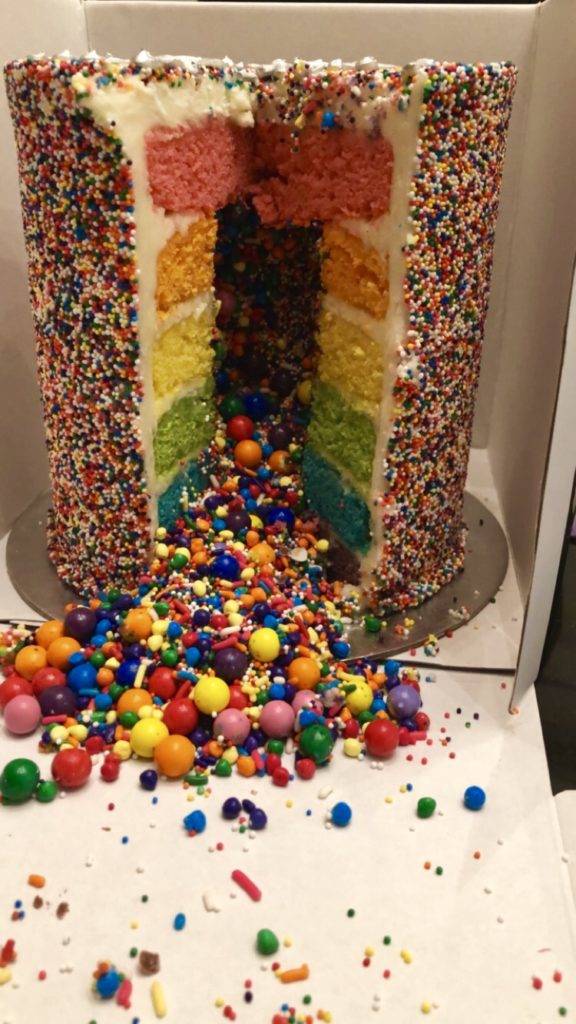 Explosion is the perfect name for the surprise you get when you cut in. Fairly tall and covered in icing and sprinkles, unless you have seen a picture before you're not prepared for what happens once you cut in. As you can see above, an overload of sprinkles and chocolate covered balls fall right out of the center of the cake! These aren't just for looks either, the chocolate is actually pretty good too. The cake itself is a red velvet with the most delicious cream cheese frosting. Contrary to most, cream cheese frosting (actually most frostings), is not my favorite. This was soft, not overly sweet, and not overbearing in ratio. The cake was moist and tasted just as great as it looks. I was shocked, these types of cakes usually look great but are underwhelming in taste. Mix the excess sprinkles and chocolate balls with the already flavorful red velvet cake and you've got the perfect combination.
This cake is such a fun surprise and complete crowd pleaser- giving it a 5 star recommendation for that next special birthday in your life!